*We have worked extremely hard to provide our customers with an exceptional classroom environment.  So moving forward, ANY drinks brought into our classroom must be in a CLOSED container.  No exceptions.
Class includes:  Design, fabric, piping and a complete set of instructions printed.

This will be a one-of-a-kind class during which we will be making machine covers for either the Solaris, Destiny, Altair, or Meridian…your choice. You  will have the opportunity to work directly with Deb Canham and Donna Siler as they walk you through the "ins & outs" of Deb's unique designs for these exceptional Baby Lock Machines.

Each machine cover will have three parts:

Machine Cover

Short Bed Sewing Cover

Embroidery Arm Cover
While the aim is for each attendee to create their own unique, beautiful machine cover, you will find that this event will also be heavy on the use of techniques.   We will be working with the built-in frames on each machine to make the letter tiles for the front of the cover and you as the designer,  will have the opportunity to choose whether you want to add your machine name or any name you might have given "her"…. embroidered on your cover.
The back of each machine cover will have blocks, some of which will be embroidered, while others will be quilted.  You can choose to use the embroidery patterns included in your machine, but you will also have the opportunity to use any of your favorite embroidery patterns you might decide to bring with you.  We will be using the scanning and/or projector abilities of these incredible machines to position the quilting on each block. 
This class will be a great refresher course on what these machines can do.  Whether your machine is new to you…. or you feel you have not yet discovered all that it can do, then this is ABSOLUTELY the class for you.  So be prepared to learn, create, inspire …and have a great time
Reserve your seats now…as our class size will be limited
*You must bring your own machine and accessories (Unless you have made arrangements with the store for a rental)


Traveling in from out-of-town?  We've got you covered...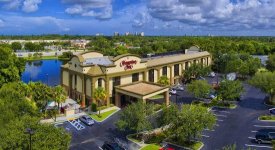 HOTEL INFORMATION

The Hampton Inn & Suites by Hilton is located approximately 1 mile north of our Showroom on Tamiami Trail.  We have negotiated a Corporate Discount for our out of town guests with rates as follows:
Two Queen Size Beds: 
$84.00 (non-season ) and $149.00 (Season January 1st through March 31st)– Breakfast is included

One King Size Bed:  
$84.00 (non-season ) and $149.00 (Season January 1st through March 31st)– Breakfast is included


The ONLY way to get the Flash Sew & Quilt Corporate Discount and book your rooms is to use this link: click  HERE.    (DO NOT CALL HAMPTON INN)
Instructor Name:
Deb Canham