JANUARY 26TH & 27TH 10AM - 4PM
*We have worked extremely hard to provide our customers with an exceptional classroom environment.  So moving forward, ANY drinks brought into our classroom must be in a CLOSED container.  No exceptions.
Claudia Dinnell, an award winning quilter and educator, will be returning to FLASH with her newest design (a patriotic themed design).  More information to come.



This is a new exclusive design that can only be purchased during one of her events.
The cost of the class includes the pattern & instructions printed in color and and spiral bound book 85+ pages.

You can find the supply list in the attached.  CLICK HERE 
Traveling in from out-of-town?  We've got you covered...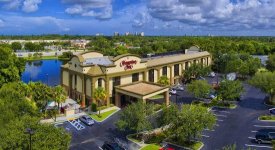 HOTEL INFORMATION
The Hampton Inn & Suites by Hilton is located approximately 1 mile north of our Showroom on Tamiami Trail.  We have negotiated a Corporate Discount for our out of town guests with rates as follows:
Two Queen Size Beds:  $149 (January 1st - March 31st)– Breakfast is included
One King Size Bed:  $149 (January 1st - March 31st)– Breakfast is included 
You can book your rooms by clicking HERE
(You must use this link to get the Flash Sew & Quilt Corporate Pricing)