Only available for in-store purchase
BERNINA 475 QE Kaffe Edition – Come celebrate color
Dare to be different! Throughout his career, Kaffe Fassett has inspired and encouraged people to trust in their color instinct. The BERNINA 475 QE Kaffe Edition, proudly presented by BERNINA in cooperation with Kaffe Fassett, is a tribute to his art and an invitation to commit to the power of color.
Be bold, break rules – and you will discover something wonderful!
Color up your sewing studio
Machine design by Kaffe Fassett
Inspired by the Millefiore fabric print
Dare to stand out!
This first completely colored Special Edition is just the right splash of color your creative space has been waiting for! The design was inspired by Kaffe Fassett's Millefiore fabric print and by his love for pastel.
Free gifts over $900*
Kaffe Edition Trolley
Kaffe Edition Dust Cover
The BERNINA Kaffe Edition Trolley is specifically built to safely and beautifully take your machine wherever you go. The 21 exclusive decorative stitches inspired by by Kaffe Fassett's designs will give your creativty a real boost. Also, the ornate dust cover, slipped over the machine, gives a hint of what a unique machine is concealed underneath.
More creative time
Automatic features for your ease
Press a button to cut your thread
Secure your stitches automatically
Threads are cut automatically, or if you prefer, magically. Even the needle lifts leaving your hands free to keep on creating.
Keeping your hands on the fabric
Raise or lower the presser foot and the feed dog at the same time
Convenient operation with the knee
Hands remain free to guide the fabric
The BERNINA Free Hand System (FHS) lets you lift or lower the presser foot using only the knee lifter, allowing hands to guide your projects to bigger and better things.
Adjustable presser foot pressure
Sew any material perfectly with ease
Increase pressure for thin materials
Reduce pressure for thick materials
Individual adjustment is easy to make, ensuring the ideal pressure is achieved for any and all materials no matter how thick or delicate.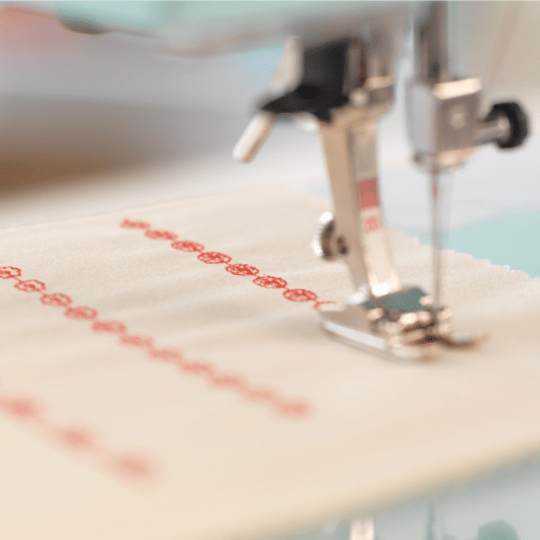 Nice, easy perfect stitches
Sew perfect stitches with 5.5 mm width
Sew even longer with the jumbo bobbin
Conveniently, front-load bobbin
Perfect precision is achieved with each stitch thanks to the BERNINA Hook. Plus, projects are done faster with speeds up to 900 stitches per minute.
Included Patchwork Foot #37
Designed for straight-stitching
Ideal for sewing ¼" seam allowances
Extra insurance for experienced piecers
Every quilter appreciates the Patchwork Foot #37 for its accurate feeding and stitching when piecing patchwork blocks with perfect precision.