Over the course of 3-days, students will create 6 different projects.  
Joe 
will 
supply the 
design files, fabrics, stabilizer and threads
 needed for each of the six projects.
There
 will be 3-days of fun, creativity and a 
whole lot of learning
 mixed together.  If you know Joe, you know he has a plethora of knowledge about 
embroidery and sewing.  This is sure to be an event for the books!  You'll not only get six projects and designs, but you'll 
learn how to make your own designs right on your machine!  
Collect 
tips, tricks & memories to last your lifetime.
NOTE:  You will need to bring 
general
 embroidery supplies, 
consider bringing a 
travel iron and ironing mat if you wish to avoid lines at the ironing station. More info on designs and supplies coming soon.

Click HERE for a Supply List



Traveling in from out-of-town?  We've got you covered...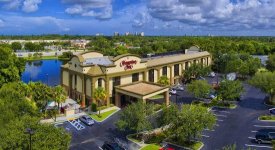 HOTEL INFORMATION


The Hampton Inn & Suites by Hilton is located approximately 1 mile north of our Showroom on Tamiami Trail.  We have negotiated a Corporate Discount for our out of town guests with rates as follows:
Two Queen Size Beds:  $84.00 in low season and $149 in high season (January 1st - March 31st)– Breakfast is included
One King Size Bed:  $84.00 $84.00 in low season and $149 in high season (January 1st - March 31st)– Breakfast is included
You can book your rooms by clicking HERE
(You must use this link to get the Flash Sew & Quilt Corporate Pricing)